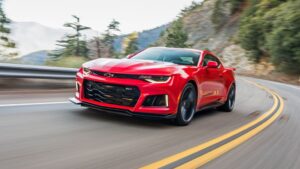 The Chevy Camaro Has Been Discontinued
Muscle car fans are in mourning today, because General Motors just killed off the CHEVY CAMARO.
They announced they're discontinuing it after the 2024 model because sales have dropped. The last one will roll off the production line next January. (There were rumors this was coming way back in 2021.)
The original Camaro came out in 1966, so it's been around almost 60 years. And this isn't the first time they've stopped making it. They hit the pause button for a while in 2003, before relaunching the brand in 2010.
The good news is it sounds like that could be in the cards this time too, and it might just be another temporary pause.
Chevy broke the news in a press release and said they're not announcing a successor . . . but, quote, "this is not the end of Camaro's story."
Now people are speculating they might relaunch it as an ELECTRIC car. 
-WZPL Facebook
March 23, 2023